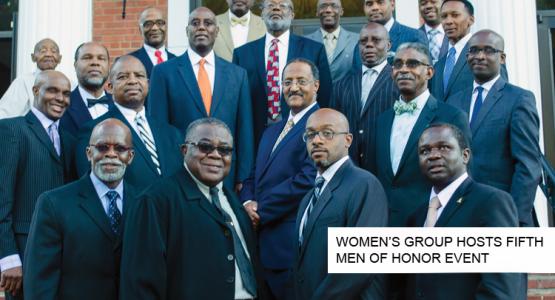 Women's Group Hosts Fifth Men of Honor Event
October 15, 2014 ∙ by Anonymous ∙ in Allegheny East Conference, Columbia Union News
At the Washington Metro Area Women's Ministries' (WMAWM) fifth annual Men of Honor celebration, held at the Dupont Park church in Washington, D.C., group leaders recognized more than 140 men for their exceptional contributions to their churches and communities.
Story by LaTasha Hewitt
Honorees represented several age groups and professions—from young professionals to a 91-year-old deacon, from pastors to military servicemen. The WMAWM, also known as Chosen Vessels, divides the honors into three categories: Helping Hand, which recognizes selfless acts of kindness; Spirit of Community, which recognizes consistent commitment to community or public service; and Unsung Hero, which recognizes significant service that has gone unnoticed.
WMAWM's highest honor, also called Chosen Vessels, highlights outstanding support to the global mission of Women's Ministries. This year, for the first time, the group presented this top award to two recipients: Dan Jackson, North American Division president, and Dave Weigley, Columbia Union Conference president.
Dave Weigley, Columbia Union Conference president, is one of only two men to accept the Chosen Vessels award during the Washington Metro Area Women's Ministries' fifth annual Men of Honor celebration.
To be considered for any of the awards, all nominees had to meet three general requirements: they are a male 18 years or older, they are nominated by a female and are an active member of the Seventh-day Adventist Church or local community. All nominations first passed through the local Women's Ministries leader and pastor of their home church.
Denise Crarey, WMAWM leader, says she was inspired to start the Men of Honor event after observing three men who were doing extraordinary things outside of their assigned tasks. "I thought, if these men are doing such great things, there must be others," she says. After three years of planning, the WMAWM held their first service in 2011.
Cynthia Poole, Allegheny East Conference's (AEC) Women's Ministries leader, hopes that this event will inspire other areas. "We consider men the leaders, but we don't often appreciate and affirm them," she shares. "This event was paramount for letting the men know that the women of Allegheny East Conference love and support them."
To watch coverage of the event, view the AEC Today video newsletter at visitaec.org.