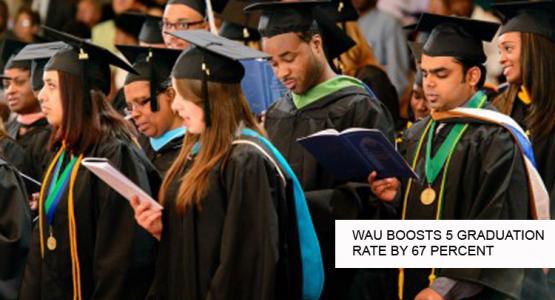 Washington Adventist University Boosts Its Five-Year Graduation Rate by 67 Percent
October 22, 2014 ∙ by Anonymous ∙ in Education, Washington Adventist University
Washington Adventist University Boosts Its Five-Year Graduation Rate by 67 Percent
Feat matched by fewer than a dozen other schools in the nation
Story by Donna Bigler/Washington Adventist University
Washington Adventist University (WAU) has improved its graduation rate over the past five years by 67 percent, a feat matched by fewer than a dozen other institutions of higher education in the nation that offer bachelor's and master's degree programs.
"We are pleased to see such a significant improvement in our graduation rate, as it reflects the work we are doing to track, guide and support student success," says Weymouth Spence, WAU president. Based on our data and assessments conducted through graduate surveys, employee satisfaction surveys, and learning outcomes, we are addressing identified issues to ensure that our students thrive and graduate."
A variety of support programs for students, faculty and staff, along with the university's "Vision 2020 – Growing with Excellence" plan, which is building a culture of excellence based on the Baldrige program, are contributing to the rate increase. A new "8th Semester Free" program that began this fall for incoming freshmen is expected to further boost graduation rates, as it motivates students to complete their undergraduate degrees on time with an offer of free tuition in their last semester.
The university's Betty Howard Center for Student Success offers academic support, career services and cooperative education, disability services, faculty development, a first generation ambassadors program, the First-Year Experience program, an active Honors Program, and the One Step Away program that helps returning students reach their degree goals.  In addition, access to counseling services, financial assistance, mentors, tutoring and testing services, a writing center, math and computer labs and college study skills classes also help students graduate.
For more information about Washington Adventist University, visit www.wau.edu.