Sligo Church Welcomes Nearly 100 WGTS Listeners
April 29, 2009 ∙ by owetmore ∙ in Potomac Conference, Washington Adventist University
By Kitty Evans | Photos by John Wagner and Cheerie Lou Capman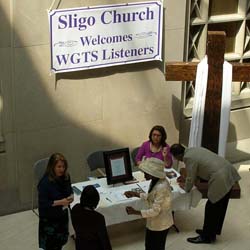 Potomac Conference's Sligo church in Takoma Park, Md., recently pulled out all the stops to greet nearly 100 radio listeners at the congregation's first WGTS Radio Day. Guests surged into the church's sunny atrium amid welcome banners to meet program hosts from the second-most-listened-to noncommercial religious radio station in the United States. 
"When I heard the radio invitation I knew I had to make time to come and see the people from my favorite station," said Christina Iser of Gaithersburg, Md. 
Columbia Union College's family-friendly contemporary Christian music station WGTS at 91.9 FM ranks first among certain demographic groups during nights and weekends in the Washington, D.C. market, with a weekly average rank of seventh, according to station records. The station broadcasts worship services from Sligo church at 11 a.m. each Sabbath.
"I am so happy to see our family from WGTS here for our first Radio Day," said Charles Tapp, Sligo's senior pastor, who preached about the Christian's need for a fruitful connection with Christ. "This is the first of four Radio Days we have planned for 2009."
Smiling as she cradled an infant at lunch, Dilia Diaz of Ashton, Md., shared, "My niece [WGTS host Blanca Vega] invited me, and I'm glad I came." Four generations of the Vega family were there. 
Reflecting on the purpose for Radio Day, station manager John Konrad said he had hoped to ignite precisely that spark of relationship-building energy when radio staff and church pastors envisioned WGTS Radio Day as a quarterly event at Sligo church. "I look for ways to involve people, and radio is very good at nurturing relationships," Konrad said.
The next WGTS Radio Day at Sligo church will take place August 8.