Washington Adventist University Exhibits Modern Art
November 16, 2009 ∙ by owetmore ∙ in Washington Adventist University
By Visitor Staff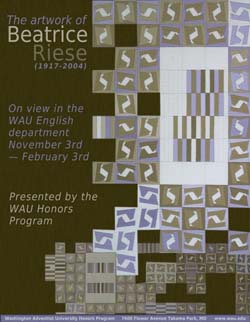 The English Department Honors Program at Washington Adventist University (WAU) is pleased to present the distinctive work of Beatrice Riese to the Takoma Park, Md., community and beyond. More than 80 people—including nearly equal numbers of faculty and staff, honors students, other WAU students, and community members—attended the opening reception on November 3. The exhibition will be on view until February 3, 2010.
Riese was born in the Netherlands but raised in Germany. Her family was forced to leave Germany, and settled in Paris, where Riese studied art. Fleeing the Nazis, she escaped through Casablanca to America. She lived and taught in Richmond, Va., and studied there under the abstract expressionist artist Clyfford Still. Later she moved to New York and became a textile designer. For 10 years she studied art with modern master Will Barnet, and also started collecting African art (her important collection is now in the Brooklyn Museum). She was affiliated with several art organizations, including the AIR Gallery—the first nonprofit gallery devoted to art by women—and Abstract American Artists, where she served as president during the last 14 years of her life.
Reise's artwork shows the influence of modern geometric abstraction, as well as textile design and ethnic art. For decades she worked on accurate, complex, geometric works in secondary and tertiary colors. In the final decade of her life, she developed a second distinct mode that focused on dense networks of letters or characters that suggest language while still making abstract designs. Her work was continuing to develop with originality and vigor until she died in 2004 at the age of 86.
Riese once said that her goal was to "make art good enough to be in museums." In this sense she has been successful. Her works are in numerous major art collections in the United States and abroad, including: the Guggenheim, Whitney, Corcoran, and Hirshorn museums; the Museum of Modern Art, the Library of Congress, the National Museum of Women in the Arts, the British Library, as well as in collections at Harvard, Yale, Princeton, Notre Dame, and many other schools and provincial museums. 
For more details, schedule, and directions, contact Brad Haas, Honors Program director, at (301) 891-4594 or bhaas@wau.edu.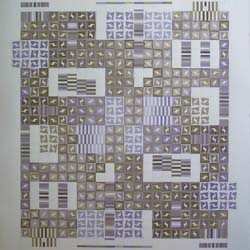 "Six from Bolivia"  (1983)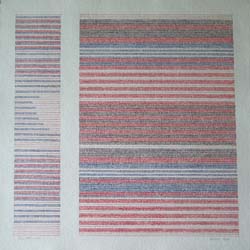 "The Plot" (2004)