Roundtable Honors WGTS General Manager With Community Award
January 04, 2010 ∙ by owetmore ∙ in Washington Adventist University
By Angie Abraham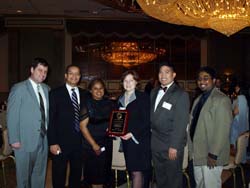 John Konrad, general manager and vice president of WGTS 91.9 FM, the Christian radio station owned by Washington Adventist University (WAU) in Takoma Park, Md., was honored recently for his efforts to use the station to minister to the Washington, D.C., community and beyond. 
At its fifth annual Gala and Awards Dinner, the Maryland India Business Roundtable, Inc. (MIBRT) presented Konrad's staff with the "Best Community Media Award." Sen. Brian E. Frosh, who serves as MIBRT president, and Elisha B. Pulivarti, MIBRT executive director, honored Konrad's "leadership and commitment in promoting the best contemporary Christian radio listening audience." 
Pulivarti, a member of Potomac Conference's Beltsville (Md.) church, founded the MIBRT in 2006, and has been using the organization to help bridge educational opportunities between WAU and Spicer Memorial College in India. Read more about the MIBRT in the January Visitor or at mibrt.org.
"Over the past 11 years, WGTS has been steadfast in its mission to nurture a relationship with Jesus Christ through contemporary music that is consistent with God's Word," reports WAU president Weymouth Spence, EdD. 
As the station grows, the WGTS staff continues to seek innovative ways to uplift its nearly half-a-million listeners. "And as WGTS emerges as the second largest noncommercial Christian radio station in the country, we can say with confidence that God has been moving through this station in powerful ways to bless and inspire listeners in the Washington, D.C. area and beyond," adds Spence.
"This is God's radio station," Konrad often says. Read more at wgts919.com.