WAU to Provide Support, Expertise to new Russian Media Center
June 26, 2012 ∙ by vmbernard ∙ in Washington Adventist University, Education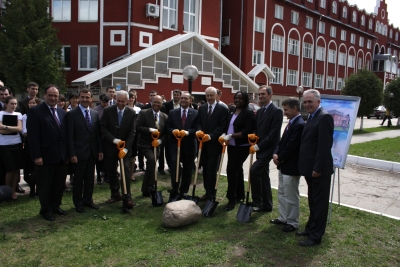 Story by Barby Kulakov
Last month, Weymouth Spence, president of Washington Adventist University (WAU); Mikhail Kulakov Jr., professor of religion and director of WAU's Bible Translation Institute; Zack Plantak, chair of WAU's Religion Department and Celeste Ryan Blyden, Visitor editor and publisher, joined leaders from the Euro-Asia Division for a groundbreaking ceremony for a new media center that will soon be erected at Zaoksky Adventist Seminary and Institute outside Moscow.
The idea for a new media center, which Spence spearheaded, took form in January at a meeting held in Zaoksky with John Konrad, WGTS 91.9 FM general manager and leaders of the Global Vessels ministry, a U.S.-based charity.
WAU's WGTS radio station was a source of inspiration for the project, explained Kulakov, a Russian native. He explained that the organizers and enthusiasts of the radio and TV ministry in Zaoksky were looking to understand WGTS' listener-based support model.  "It's a unique radio station in its approach style and philosophy of broadcasting with great emphasis put on interaction with listeners, studying the needs of the audience and focusing on families and young adults," he said. "The popularity of the station and the fact that it is exclusively listener supported, not funded by the denomination, is something the Zaoksky enthusiasts hope to accomplish through the new center."
The purpose of the media center is to provide new relevant and educational programs to the people of Zaoksky and the surrounding area, said Konrad. "It's going to provide the church with relevant programming to help spread God's word, and better the community by [broadcasting] positive health and living programs." He added that students will also receive hands-on realistic training in both television and radio broadcasting. 
Konrad and leaders from WAU, the Euro-Asia Division and Global Vessels are working closely on this project. Guillermo Biaggi, president of the Euro-Asia Division said that they will continue to be involved in the project during and after its completion. "We want to support Zaoksky's students," he said, "for them to share their God given talents through radio and TV programs, and to embrace the mission-driven spirit to give their lives in His service in order to bring hope to millions."
The West Russian Union funded the first stage of the project.  There are several possibilities for WAU, Global Vessels and other potential sponsors to get involved, according to a report following the meeting in January.
The West Russian Union will own and maintain the future media center on the campus of Zaoksky University. Zaoksky University's students and faculty will create programming while WAU and WGTS leaders will draft the media center's mission statement and its system of governance.
WGTS 91.9 will assist in training the future producers and speakers. Evgeny Simenov, a student from Zaoksky, is already on his way to WAU to receive training and to be immersed in the environment at WGTS 91.9. Konrad, who has been actively involved in the process of bringing Simenov to WAU, says he is eager for the opportunity to assist in coaching him. "It's a unique chance to be able to bring a student from overseas and give him the necessary tools and training to take back to Zaoksky," he said, "I'm looking forward to being a part of this exciting new project that's going to benefit so many people."
After years of communist rule and minimal opportunity for broadcast ministry, now is the time to get involved, said Kulakov. "Russia is at a crossroads," he concludes. "New prospects are opening for radio and TV, and it's a unique opportunity for WAU and WGTS 91.9 to be a part of this new chapter of Russia's history as it continues to develop into a democratic nation."