Hundreds Pay Tribute to WGTS' John Konrad at Memorial Service
January 16, 2013 ∙ by cwhittingham ∙ in Washington Adventist University
Story by Grace Virtue​
John Konrad, who served as general manager of WGTS 91.9 FM in Takoma Park, Md., died unexpectedly on January 2.
Last Sabbath hundreds of people gathered at Potomac Conference's Sligo church in Takoma Park, Md., to celebrate the life of John Konrad, who since 1996 served as vice president and general manager of Washington, D.C.'s contemporary Christian music station, WGTS 91.9 FM. Konrad, 43, died at the University of Maryland Medical Center in Baltimore, January 2, after a short illness.
Konrad led the station through a transition from classical music to a contemporary Christian format in the late 1990s, doubled the station's coverage area and grew the listening audience from 10,000 weekly over 600,000. The station ranks among the top 10 in the Washington, D.C. market.
Pastor Al Konrad, John's father, spoke in loving memory of a son whom he said approached life with a special kind of exuberance. "He was special, unique, one-of-a –kind and sometimes exasperating individual," he said. "There were times when we asked God, why he had blessed us with this boy, but mostly, we were glad he did."
Pastor Konrad said he does not understand nor is he able to explain why a young man in the prime of his life with so much more to do, so many things to accomplish, so much life to live, died.
"He was so young. He just lived a little more than half of the promised three scores and ten which the Bible speaks about, he said. "I know there will come a time in the New Earth when I will be able to sit down with Jesus and have it explain it, and I know he will but until then, my heart is empty and I cannot explain it. "
In a powerful tribute to his son and an exhibition of his own faith, the Elder Konrad noted God's promise to "wipe away all tears from our eyes." "So goodbye sorrow, goodnight sickness, heartache and pain. Weeping may endure for the night but joy cometh in the morning."
Gregory Ingram, Washington Adventist University's (WAU) vice president for information technology, said he and Konrad had been best friends since the seventh grade. "John taught me how important life is and to stay focused on one's beliefs." Ingram said. He showed me that one person can make a difference. He did this by, the lives he touched and the people he helped. He did this by, staying focused on his beliefs and the way he lived his life. I know this because he made a difference in my life."
Konrad's humility and kindness, his talented leadership and love of radio, gadgets and dogs were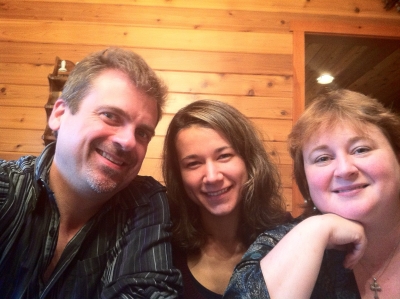 common themes among those who paid tribute to him, including Michael Kulakov, WAU Theology professor; Dave Weigley, president of the Columbia Union Conference; Ty McFarland, WGTS program director; Becky Alignay, WGTS assistant program director; student Kevin Hippolyte; Kevin Krueger, general manager for Positive Life Radio; and Pastor Terry Johnsson, WGTS chaplain and Konrad's "brother of the heart."
Konrad is survived by his wife, Dawn; their daughter, Marina; parents, Al Konrad and Johna Sue Mason; his sister, Anni Hevener; nieces Megan and Morgan Hevener; and countless friends.
The family asks that donations be made to a cause close to Konrad's heart: All Shepherd Rescue at P.O. Box 23231, Baltimore, MD 21203, or online at www.allshepherdrescue.com.
Founded in 1957, WGTS is owned and operated by Washington Adventist University, a higher education institution of the Columbia Union Conference.