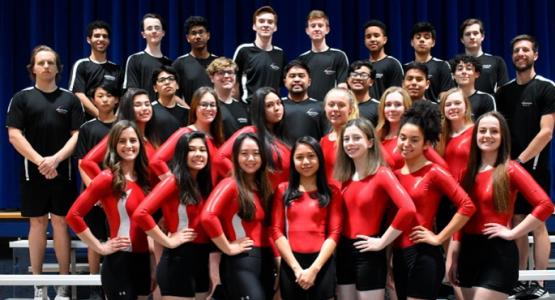 Campus Stays Together as Family
November 30, 2020 ∙ by Web Administrator ∙ in Coronavirus Pandemic, Chesapeake Conference, Education
Story by Andrew S. Lay
In March 2020, Highland View Academy (HVA) faced a dilemma—how to keep their campus family of faculty and students connected as they faced an uncertain future with a pandemic quickly taking over school and personal life. What started as a canceled Week of Service, followed by the inability for students to return after spring break, turned into a nightmare of Zoom classes, what ifs and unpredictability about the future. Using all known tools to maintain communication seemed to be the answer: emails, Facebook and Instagram posts, phone calls and mailed care packages to HVA students and parents.
Instagram posts focused on new ways of being social, including weekly Prayer and Praise Zoom meetings, Friday evening vespers and Bible treasure hunt activities via Instagram Live and encouraging videos shared by HVA's Campus Ministries Committee, comprised of class and Student Association pastors. HVA students were encouraged to keep going, praying and having fun together, exemplified by two particular posts that were the most liked on their Instagram page.
Concentrating on different ways to unite, Facebook posts consisted of YouTube videos advertising the Music Department, new campuswide recruitment videos and prayer requests offered and shared with one another. These posts also served to announce new COVID-19 opening procedures to alumni and parents, ways to virtually tour the campus and watch the "Best of HVA" videos.
Part of HVA's strategy to stay linked included mailing care packages to students, such as "Popcorn Wednesday" microwave popcorn parties, new HVA stickers for students' computers or mobile phones and notes of encouragement from faculty. This, combined with daily or weekly HVA email updates from Principal Harry Janetzko about opening procedures, helped HVA faculty and staff stay connected with current students and showed future students what their lives would look like upon joining the academy the following year.
Now, as the new school year has begun, HVA is still using the same social media platforms to unite students and families. They are offering in-person and online learning until the pandemic restrictions ease so that they can all be physically together again. Until then, HVA is implementing proper CDC and Health Department guidelines. School life now consists of daily health assessment surveys, social distancing, wearing masks, temperature checks and Zoom class meetings for online students and in-person activities. They continue to hold Zoom prayer meetings, Instagram Live programs and Sabbath School and church worships on YouTube and Facebook. HVA invites any student or family interested in joining their family to visit hva.edu.com for more information.