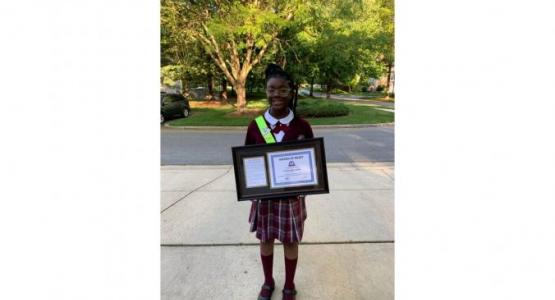 G. E. Peters Student Receives Safety Patrol Award
December 02, 2020 ∙ by JennaLettsome ∙ in Allegheny East Conference, Education
by LaTasha Hewitt
Kiera John-Lewis, a sixth-grader at the G. E. Peters Adventist School in Hyattsville, Md., was recently chosen by the American Automobile Association (AAA) School Safety Patrol program as an outstanding safety patroller in the Washington, D.C., Maryland and Virginia area. As a patroller, John-Lewis had the opportunity to "play an important role in helping young pedestrians learn and fulfill responsibilities regarding traffic safety," according to the program's website.
When John-Lewis heard she would be receiving the award, she was pleasantly surprised and grateful: "I was astounded to have received the award. It means a lot to me knowing that my work is greatly appreciated, and I'm thankful for the support I received to accomplish this award."
AAA supports 1,379 schools and 37,022 students, and, therefore, does not limit the award to one patroller each year. Instead, they focus on the merits of the nomination and award an Outstanding School Safety Patrol to those patrollers deserving of the award.
A standard rubric is used by a panel of judges to rate each AAA Outstanding School Safety Patrol nomination. The judges' scores are com- bined, and the patroller in the top tier or highest score range is selected for their state or district to receive the award. In the D.C. area, consisting of 15,540 patrollers, nine patrollers won the AAA Outstanding School Safety Patrol award. In Virginia, three patrollers won. And in Maryland, four patrollers won—John-Lewis being one of them.