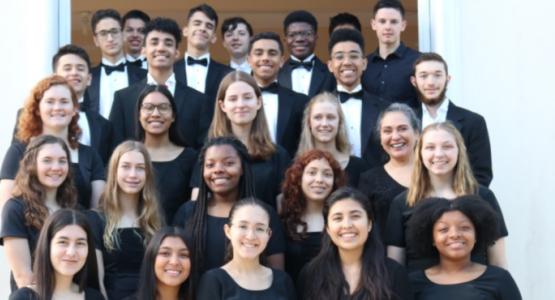 Mission Trip to Mexico Impacts Students
May 20, 2020 ∙ by Web Administrator ∙ in Pennsylvania Conference, Education
Story by Esther Hernandez
Nine different church locations. Three schools. Providing concerts. Interacting with students. Painting walls. Talking with students and church members. Learning to barter at shops. Sharing testimonies with people wanting to know more about God.
On a mission trip to Mexico earlier this year, the Blue Mountain Academy (BMA) Bel Canto members and school administrators, along with Carlos Charnichart, the Pennsylvania Conference treasurer, impacted lives—and were themselves impacted.
"Whenever I am a part of a mission trip that serves another country, I am astounded at how youth are not as burdened with preconceived notions and prejudices," states Burney Culpepper, BMA's principal. "Mission trips abroad open up our worldview and help us to understand how other cultures really are. These kinds of trips are an invaluable part of the BMA experience. Mission trips are a type of 'lab' where our students are able to put into practicality what they are learning at BMA."
Senior Alan Diaz is one example of a student who is doing just this. Diaz is considering becoming a pastor, and during his time at BMA, he is learning to share his faith. While visiting a barbershop in Mexico, he saw a Bible and asked the barber if he could read a few verses aloud. Afterward, he prayed for the barber, customers and shop. The barber was surprised and impressed by this simple act. "I can do this on my own in my shop each day," he told Diaz and those listening. Before leaving the area, Diaz and his friends checked back with the barbershop and learned that business had increased and the barber was seeing Diaz's prayers being answered.
Another time on the mission trip, the Bel Canto members finished a concert for a church district, when a doctor in the audience approached Culpepper and other BMA staff and asked if his daughter could attend BMA. However, he didn't want to wait until the new school year; he wanted her to go back with the group right away. "He wanted her to be a part of what he was seeing," shares Culpepper.
It is moments like these that demonstrate the mission of BMA: to provide a Christ-centered Seventh-day Adventist education that leads students into lives of service for God. Learn more at bma.us.