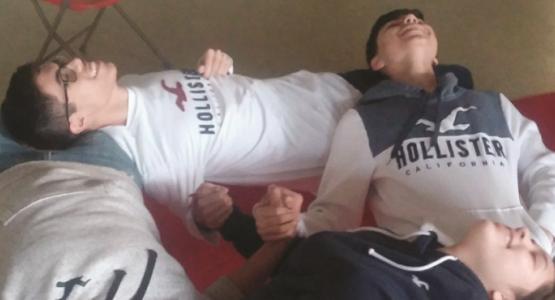 Students Connect With God, Disconnect From Media
June 01, 2020 ∙ by Web Administrator ∙ in New Jersey Conference, Education
Story by Ashley Boggess
Earlier this year, Lake Nelson Adventist Academy held a spiritual retreat for the high school students, intended to revitalize them spiritually, emotionally, physically and mentally.
The annual spiritual retreat usually takes place somewhere in nature—a setting for high schoolers to relieve stress and anxiety. For three days and two nights, it provides time to disconnect from social media and phones and connect with God and friends. Some of the "amenities" include food, comfortable rooms, spiritual sessions, bonding time and activities.
This year was no different. The spiritual retreat took place at the Tranquil Valley Retreat Center in Tranquility, N.J. Ashley Boggess, the junior homeroom teacher and high school English teacher, organized this year's activities and speakers. The presenters included Jean Brown, a Seventh-day Adventist psychologist, and Anthony Baffi, the associate youth director for the New Jersey Conference.
The topics for this year's retreat included identity crisis, depression, stress management, how to deal with abuse, overcoming addictions and more. The main emphasis was on change and making room for God in their lives.
The students had the opportunity to break out by class and take part in group activities, including a painting session by third-grade teacher Kimberley Francis, an up-and-coming artist. She offered an art therapy-type segment.
A hiking activity, led by John Hakizimana, the sophomore homeroom and high school science teacher, taught life lessons through nature. Principal Elisa Maragoto spoke to high school students about the importance of spending time with God and how they can better their relationship with Him, while Brown spoke to the seniors about their future and college options. Free time gave the students the opportunity to enjoy the indoor pool, play sports, pray with friends or teachers and talk with the guest speakers.
The high schoolers say some of their favorite experiences were at the breakout sessions where they participated in deep discussions. "The food was also one of my favorite," said one student, "especially on pizza night where there was not only regular pizza ... but also vegan pizza!"
Returning motivated, students agreed that the trip was a blessing.