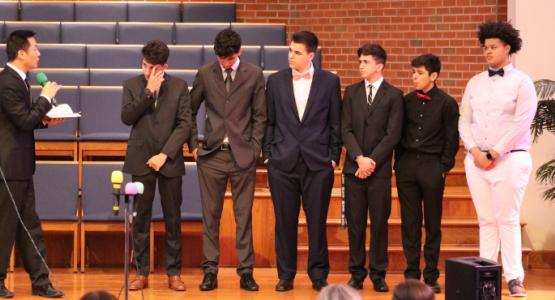 Teens Lead Powerful Revival
May 25, 2020 ∙ by Web Administrator ∙ in Pennsylvania Conference, Education
Story by Tamyra Horst
"God is real."
Those three words changed lives as God recently moved powerfully on the campus of Blue Mountain Academy (BMA) in Hamburg and in the lives of students. Young people and staff gathered for a Friday evening bonfire at the end of a Week of Prayer. They had just learned that the school would be closing because of the COVID-19 pandemic. As they prayed and sang together, senior Esteban Grajales suddenly felt the need to go and talk to six friends.
Grajales asked others to pray and invited Henrique da Silva to go with him as he went from room to room in the dorm. "God is real," he told each student. "And if He's real, He wants your heart and your commitment."
Sophomore Wilson Guerrero says, "I came to BMA because I wanted to grow closer to God. That night, Esteban and Henrique visited my roommate, Kyle. They talked to him about God. I felt like the words were for me. They asked if I wanted to make a decision [for baptism], so I did."
Another sophomore, Oscar Martinez, had been feeling lonely while sick in his room. "Although I was born into a Christian home, I never felt God near me," he shares. "However, while I was sick, I had a moment with God. I prayed, cried and asked Him to show me who my real friends were." That Friday evening, Grajales visited Martinez and told him "God is real." Martinez continues, "I felt that God was talking to me and answered my prayer. That's why I want to do my part and give myself to Jesus."
That same evening, fellow sophomore Gabriel Donati told Sanghae Kim, pastor of BMA's campus church, he wanted to put God first in his life and be baptized. Grajales and da Silva later visited Donati's dorm room and asked him if he wanted to be baptized. "The opportunity was available the next day. I was happy about that," he states.
"An army of youth rightly trained" is leading a spiritual revival across the campus of BMA. Even as the school transitioned to distance learning during the COVID-19 pandemic, students initiated their own video and teleconference prayer meetings each night at 9 p.m. They took their invitation to the community outside of BMA through their Facebook pages, at first sharing an encouraging scripture verse, thought and invitation to pray. Later they began sharing videos of students offering a short devotional and scripture thought.
"I am so proud of our BMA students and staff!" says Gary Gibbs, president of the Pennsylvania Conference. "Throughout this school year, we have witnessed the Holy Spirit powerfully at work on campus. Principal Burney Culpepper and his staff are dedicated to BMA being a safe place where students not only excel academically, but prosper spiritually. Every parent interested in their child's spiritual welfare is being greatly blessed by BMA."
For more information on student enrollment opportunities at BMA, contact Ruben Olm at rolm@bma.us or (914) 216-1609.