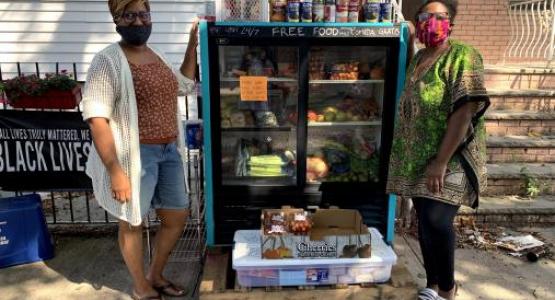 SALT Provides Food for Underprivileged Families
August 11, 2021 ∙ by rbacchus ∙ in Allegheny East Conference
Story by LaTasha Hewitt
When Claudia Wheeler, a member of Allegheny East Conference's University Heights church in Somerset, N.J., looked at the number of families in need of healthy meals in contrast with the amount of food wasted by restaurants and stores, she decided to start the SALT foundation in December 2017.
SALT restocks items weekly for neighborhood community fridges, food pantries, homeless shelters and soup kitchens. The foundation collects and distributes more than 3,500 pounds of food per week to serve about 500 families and individuals. They work with community programs, centers and churches to run food distribution events and partnerships.
"I named the foundation SALT, derived from Matthew 5:13 ... preserving families and communities which will, in turn, enhance the flavor of life in the world," says Wheeler.
Even though SALT is a nonprofit organization, they were not able to qualify for a Paycheck Protection Program loan that assists businesses and nonprofits during the pandemic.
"There are three immediate needs the foundation has: a refrigerated van to transport fresh food properly; an industrial refrigerator and freezer for food storage; and general donations to help cover car maintenance, gas and tolls," says Wheeler. "Also, volunteers are welcome to assist with food distribution events and to help pick up and sort food."
To learn more, visit thesaltfoundationinc.org.