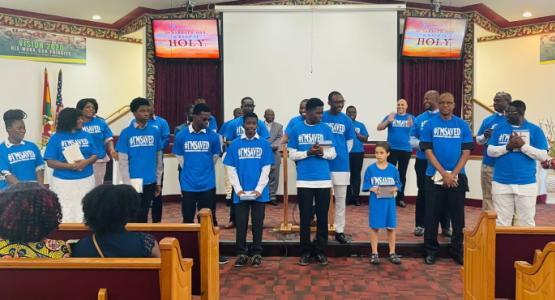 English Service at Columbus Ghanaian Sees Growth
October 04, 2022 ∙ by Web Administrator ∙ in Ohio Conference
Story by Kasper Haughton Jr.
The English service at the Columbus Ghanaian Adventist Church (CGAC) recently held its 2022 Summer Revival Summit, finishing a fruitful evangelistic season. CGAC pastors Samson Twumasi and Samuel Adjei hosted the revival, featuring messages from Nic Coutet, lead pastor of the Adventist Fellowship church in Tulsa, Okla. At the end of the meetings, nine people gave their lives to Christ through baptism.
The CGAC English service began in March of 2021, with a mission to reach second- and third-generation Ghanaians born in the United States.
"Our vision is twofold here: to rescue the youth and young adults we are losing in the Adventist Church and empower them for mission work," says Adjei.
Since its inception last year, the CGAC English service has become a multi-nationality community church, reaching more than just Ghanaians. The service began with some 30 members and has now grown to a membership of 80 young adults.
In 2021, the CGAC English service celebrated 30 baptisms. With the nine baptisms following this summer's evangelistic campaign, the year-to-date total has increased to 19.
Adjei adds, "As we have begun to hold services in English, young adults feel comfortable inviting people from their social networks to join them at church. We have become a welcoming home for neighbors and friends here in Columbus."