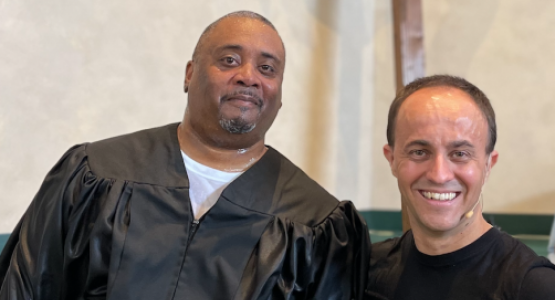 Father Follows Daughter's Example, Gets Baptized
August 17, 2022 ∙ by rbacchus ∙ in Chesapeake Conference, Education
Story by Evan Knott
When a student from Chesapeake Conference's Baltimore-White Marsh Adventist School decided to get baptized, the student's father took notice.
Travis McClurkin visited the Baltimore-White Marsh church October 9, 2021, to watch his daughter, Emma, get baptized. After witnessing the baptism and hearing his daughter's testimony, McClurkin decided he needed to follow her example.
McClurkin decided that day to give his life to God. He approached Ivor Quashie, the church's head elder, and asked if he could begin taking Bible studies.
"God has been so good to my family," McClurkin says. "I want God to do in my heart the same thing He's done for my daughter."
McClurkin received Bible studies, and Diego Boquer, senior pastor of Baltimore-White Marsh, baptized him into the church March 26.
The baptism was an answered prayer for other family members who'd been praying for McClurkin for years. In addition to Emma, Travis' wife, Melody, and three other daughters, Kara, Alexandra and Paige, are active church members.
The two eldest daughters, Kara and Alexandra, are Baltimore-White Marsh school graduates, and Emma and her youngest sister, Paige, currently attend the pre-K through eighth grade school. Emma says the school played a significant factor in her decision to be baptized.
"It's powerful to see the influence of the church and school coming together and spilling over a family," says Boquer. "It's amazing to see God doing amazing things in people's lives."