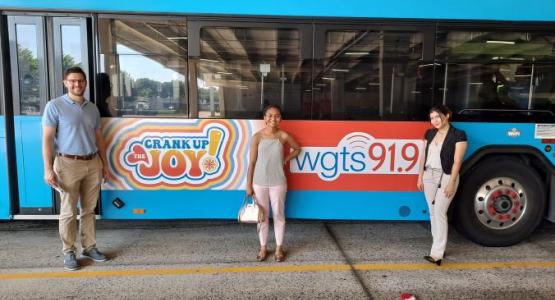 Interns Conclude First-Ever WGTS 91.9 Leadership Associate Development Program
August 12, 2022 ∙ by rbacchus ∙ in WGTS
Story by Lindsey Gispert
WGTS 91.9 carried out their first Leadership Associate Development Program this summer with three college students from local and distant universities. WGTS has a long history of serving college students and encouraging young people entering the career force. The program enhanced the professional skills of interns by allowing them to complete executive projects, promote station events and engage in personal interactions with listeners.
"The leadership skills I've learned from this program will help me develop a career in radio," says Thomas Ozio, leadership associate intern and recent graduate from George Mason University (Va.).
"As a marketing student, I never thought I would end up exploring the broadcasting industry, but I am happy I took the opportunity to intern at WGTS," says Josseline Ayala, leadership associate intern and a senior at the University of Maryland (Md.).
"As a young adult trying to decide what career path [to choose], WGTS has given me the chance to explore so many avenues. My favorite part has been working with the on-air team and learning how to produce new creative content every day," says Lindsey Gispert, leadership associate intern and a junior at Walla Walla University (Wash.).