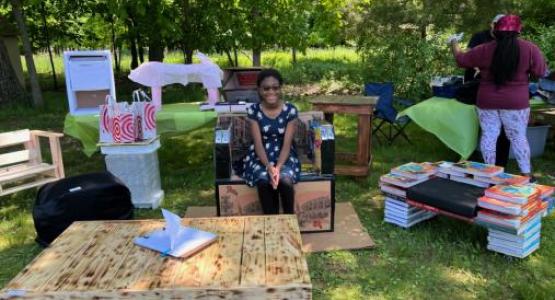 Lake Nelson Adventist Academy Gets 'Down to Earth'
September 14, 2022 ∙ by rbacchus ∙ in New Jersey Conference, Education
Story by Ashley Boggess
Toward the end of last school year, the focus of the academic fair at New Jersey Conference's Lake Nelson Adventist Academy (LNAA) was environmental stewardship. Students from kindergarten through 11th grade researched and created dynamic projects focused on reducing, reusing and recycling in a variety of contexts.
In kindergarten, the students made a recycled plant-pot from plastic bottles. The 11th grade class used their knowledge of physics to plan, build and test the durability of using recycled products to make furniture.
Most years, LNAA hosts an open house for families to come and observe what the students have learned and created. This time around, the academy took a different route. They organized a community outreach and mini-expo, themed "LNAA Gets Down to Earth."
The day kicked off with a 5K race at the Green Acres Athletic Field in Piscataway, N.J. Members from local churches and the Piscataway community joined in a 5K run or 1-mile walk. "The participants had a great time joining in and supporting the school!" says Elisa Maragoto, LNAA's principal.
Back at the academy, volunteers busily prepared for the mini-expo. A variety of community vendors sponsored booths, and several individuals brought healthy foods, beverages and desserts to sell. The Student Association sold snow cones, and one community member sponsored a booth for recycled/upcycled clothing. To top it off, the 11th grade class auctioned off the furniture they had made.
In addition to booths, there were other activities for children and parents to enjoy. Event planners organized volleyball games on the main field and set up a scavenger hunt around the outside of the campus. A local farm brought goats, rabbits, a calf and a llama for a petting zoo experience. And guests participated in a relay race to sort recycled products into the correct bins.
"LNAA's first community fair was fun for everyone," says Maragoto. "The school appreciates the support of constituent churches, community vendors, parents and students in helping the fair succeed. We look forward to more community fairs in the future."