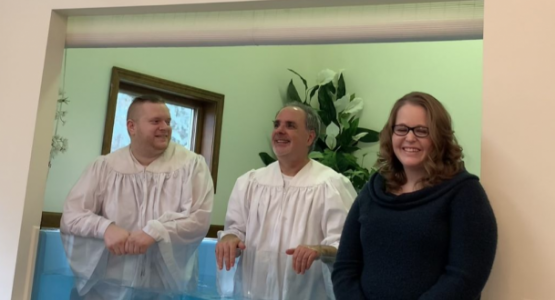 Ohio Conference's 2023 Initiative Brings Renewed Outreach Focus
March 23, 2022 ∙ by rbacchus ∙ in Ohio Conference
Story by Kasper Haughton Jr.
Ohio Conference churches have embraced the "2023 Initiative" to see 2,023 Ohio baptisms by the year 2023 and are witnessing God move in amazing ways, say leaders. The Wilmington church is one of those experiencing a renewed passion for evangelism.
Tyler Roberts was searching for truth. He learned of the Seventh-day Adventist message on Facebook after interacting with church member Chris Hamilton. Roberts visited the Wilmington church, and members quickly adopted him, making sure he had a ride to church events and Sabbath services. Roberts also connected with participants in Pastor Fred Shoemaker's Zoom Bible study and soon decided to dedicate his life to Jesus through baptism.
The crowning event of the church's 2021 outreach happened during their "Welcome Home Sabbath." Leading up to the weekend, members focused on reaching inactive and former members and visitors. That Sabbath, attendance more than doubled to 77, with nonmembers numbering more than 30. Some highlights of the day were a baptism, profession of faith and a baby dedication, shares Shoemaker.
The 2023 Initiative is more than just a numerical ministry goal; it is these stories of churches across the territory rallying together in community to share the gospel, say leaders.