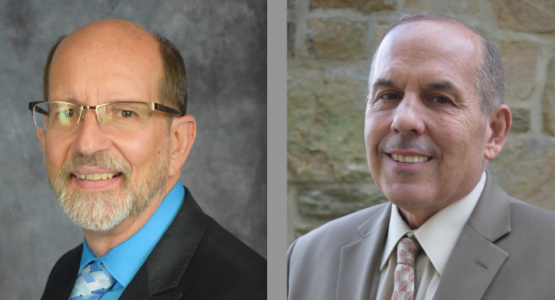 Peterson Retires, Shives Elected as Pennsylvania Conference's Executive Secretary
August 02, 2022 ∙ by rbacchus ∙ in Pennsylvania Conference
Story by Tamyra Horst
Will Peterson (top left), executive secretary and vice president for administration at the Pennsylvania Conference, recently announced he will be retiring September 1. The conference's executive committee unanimously voted to invite Shawn Shives to step into that role following Peterson's retirement. During this transition phase, they will work together to maintain continuity of service.
Shives (top right) is currently the assistant to the president and pastor for the Hampden Heights church in Temple. Shives has faithfully served the church for more than 28 years, beginning while he was a captain in the United States Marine Corps. In 1999, he accepted a call to pastor in western Pennsylvania and later in Harrisburg. Shives returned to Pennsylvania in 2020 after pastoring in the Georgia-Cumberland Conference. He and his wife, Nephlen, have five children and 14 grandchildren. Two of their sons graduated from Blue Mountain Academy in Hamburg.
"We thank God for leading in the selection of Shawn for this new role," states Gary Gibbs, conference president. "He brings a passion for evangelism and a vision of growing leaders and churches for God's work. He is a man of prayer whose personal faith impacts every aspect of his life. He works tirelessly to serve our conference and his church and will bring his success as a leader with a pastor's heart to this new role."
Peterson's retirement follows more than 22 years serving in Pennsylvania. He previously pastored in the Gulf States Conference. Peterson joined the Pennsylvania Conference in 2000 as assistant to the president. His responsibilities included the initiation of the Arise and Build program, which enabled five churches with inadequate buildings to construct new facilities, as well as the revitalization of churches and church planting.
During his tenure, 48 churches were planted with 38 of those still functioning. He also began Equipping University, a training program for church growth. In 2011, he transitioned to executive secretary, with responsibilities for policy, church governance, membership, and human resources. In addition, he administered property transactions and estates for the past nine years.
"It has been a privilege to serve in ministry with Elder Peterson here in the Pennsylvania Conference," says Gibbs. "He is not only a colleague in ministry, but a dear friend. Will's commitment to mission and sharing the gospel, his heart for people and equipping churches, and his attention to detail have blessed God's work across our state. We wish him and his wife, Darlene, God's richest blessings in their continued witness for the Lord."