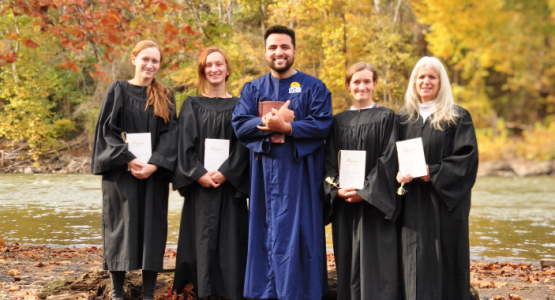 Rainelle Church Members Witness Divine Connections
October 03, 2022 ∙ by rbacchus ∙ in Mountain View Conference
Story by Liz Bailey
In the small town of Rainelle, W.Va., sits the foundation of a church-to-be. In 2016, a tragic flood destroyed the tiny Seventh-day Adventist Church. For the past five years, members have been worshipping in a rental building while working hard to rebuild a new church. Literally moving a mountain, the members cleared a spot on higher ground and poured a new foundation.
On Christmas Day 2020, a local woman, Sharyce Persson (Nonnemacher), and her daughters, Tyler, Layne and Carsyn, felt they had lost all hope. "The glue that held our family together was taken away, not only on the day we celebrate Christ's birth, but on my oldest daughter's birthday as well," Sharyce states, as she recounted the loss of her husband. "It was such a sad time in our lives. We did not know how we would be able to navigate life without him."
Was it pure chance that only 10 days after their loss they desperately needed a plumber? No. Sharyce believes the meeting was a divine appointment.
Ariel Batista, a local plumber, also happens to be the head elder at the Rainelle church. He, his wife, Michelle, and his family embraced this widow and her daughters and introduced them to church member Pam Lello and her two daughters, Abigail and Alyssa. Pam, also a widow, lost her husband in the mission field in 2010.
Was it serendipitous that Pam's husband also passed away on her oldest daughter's birthday? This connection seemed to be predetermined by none other than the Lord Himself, who brought these three families together.
Healing these broken hearts became a mission for the small congregation. The joy and light that flowed from the Batista and Lello families gave hope and encouragement to the Nonnemachers.
The family began Bible studies, along with another young, single mother who graciously volunteered to help with the studies. "From there we immersed ourselves in His Word," states Sharyce. "Every book, library of sermons, Bible study and Amazing Facts lesson was voraciously digested. We just could not get enough!"
Ariel and Michelle's son Orion and Pam's daughter Abigail were preparing for baptism at the time. Sharyce and her daughters were interested in the baptismal process and were excited to observe their new young friends preparing for it. In July 2021, as they watched Orion and Abigail go under the water, they could hardly wait for their own baptisms.
On November 6, 2021, in the cold, flowing water of the New River Gorge, Sharyce and her three daughters gave their hearts to Jesus. In the presence of their new church family, along with their own family and friends, the family of four were baptized. "The fall day was splendid! We prayed for warm weather, and that is exactly what the Lord provided us with," says Sharyce. "We feel so blessed to have had these families placed in our lives."
As the one-year anniversary of their loved one's death approached, the Nonnemacher family felt grateful that their Heavenly Father was there to soothe their aching hearts. They look forward to the day when, "God shall wipe away all tears from their eyes; and there shall be no more death, neither sorrow, nor crying, neither shall there be any more pain: for the former things are passed away" (Rev. 21:4, KJV).