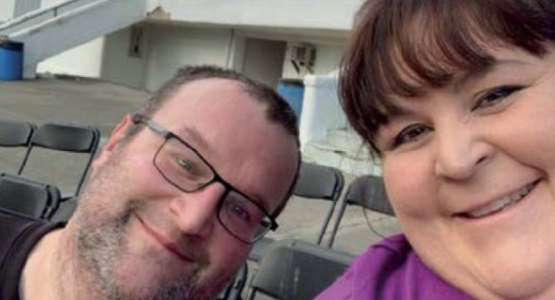 Taking Away the Fear in Life
October 19, 2022 ∙ by rbacchus ∙ in Kettering Health
Story by Kettering Health Staff
Because of her heart failure, Ruth Brandenburg was in the hospital almost every month. When she wasn't in the hospital, she always worried her condition might worsen.
"It was pretty hard," Ruth said. "When you live with heart failure, you are in constant fear of not being able to breathe or that your heart is filling with fluid."
Ryan Clark, DO, Ruth's cardiologist at Kettering Health, consulted with Josephine Randazzo, DO, a fellow cardiologist, and they decided Ruth would be the perfect candidate for the first CardioMEMS procedure at Kettering Health in Ohio.
CardioMEMS is a telemedical heart-failure monitoring system that allows a patient's doctors to measure the pulmonary artery (PA) pressure through an implant. And the patient doesn't need to leave their home.
The patient lies on a pillow-shaped device for a few minutes that then sends their PA pressure wirelessly to their care team, who can adjust medication and suggest lifestyle changes that will help lower the pressure.
Since receiving the implant, Ruth hasn't been back to the hospital for her condition. More importantly, she is no longer living in fear.
"My life can function better than what it did before," Ruth shared. "I know there's not this grand thing that I can go run a marathon or anything like that, but I have peace of mind and am able to live a life that's not as bleak."
Because the system is mobile, Ruth is experiencing a new level of freedom—so much freedom that she and her family got back from their first family vacation!
"I didn't make it all the way to the water. But I did get halfway, and I was able to sit there with my feet in the sand and watch the kids play in the water with my husband," Ruth shared. "It was really awesome."
Thank you, Drs. Clark and Randazzo, for being your best for our patients, and congrats on your progress, Ruth!