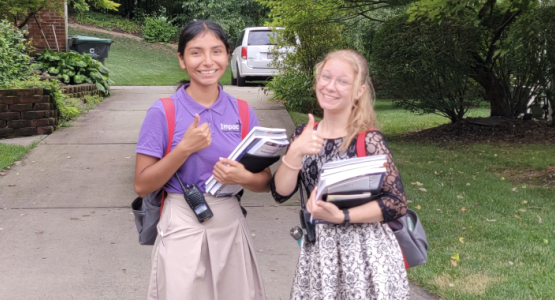 Young People in Pennsylvania Share Books With Community
May 31, 2023 ∙ by rbacchus ∙ in Pennsylvania Conference
Story by Johnathan Ryan
Last summer, 12 students in the Pennsylvania Conference spent eight weeks knocking on more than 80,000 doors connecting with more than 30,000 people. As a result of their ministry, 6,800-plus books are now in the hands of people in those local communities. These students also raised significant funds toward their Seventh-day Adventist education. Young adults interested in learning more and serving God this summer can learn more at impact-pa.com.
The conference recently kicked off "Together for Our Kids," a literature evangelism ministry that gives students in Pennsylvania Conference's Adventist schools the opportunity to share books with families, friends and neighbors through an online fundraiser. Each participating school has a two-week window to raise money for their worthy student fund. Books are available, for a suggested donation, in both English and Spanish. There's also the opportunity to donate toward purchasing books for those wanting to learn more about God in the local community. Check out the books at togetherforourkids.org.
Churches have also been sharing books, distributing more than 17,000 copies of The Great Controversy through personal evangelism. Sharing books is just one way (out of many) to achieve the Great Commission.