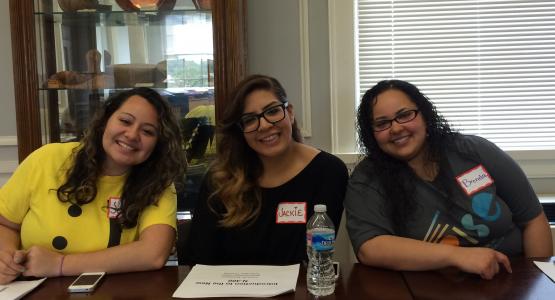 Arise Members Spend Sabbath in Jeans
May 20, 2014 ∙ by Anonymous ∙ in Noticias, Potomac Conference, Uncategorized
Members of Potomac's first English-speaking, Hispanic-American church spend the Sabbath in jeans as they volunteered in their community.
Story by Sylvia Urrutia
About two Sabbaths ago, members of Potomac Conference's Arise Hispanic-American church in Silver Spring, Md., were encouraged to trade in their Sabbath clothes for jeans and not be afraid to "get dirty" helping others. Intent on following the instructions Christ gave following his resurrection—to go and make disciples—Arise members have dedicated the month of May to exploring what this instruction means.
On this particular Sabbath, six Arise church members met at CASA de Maryland in Hyattsville, Md., and spent several hours helping members of the immigrant community fill out their citizenship forms. For Jackie Ventouris, an elder at Arise church, the day involved more than simply translating and filling out information. "Helping out was such a blessing," she said. "To lay self aside and do something that means so much to someone else, I [got to be] a part of their dream. It was great to know that for that day, I had made a difference in that one person's life. I look forward to more opportunities where I can serve our community."
Anissa Perla helps a new American fill out his immigration paperwork.
About 12 other Arise members took on a second project that day where they took the "getting dirty" part a little more literally. This group met at the Adventist Community Services of Greater Washington (ACSGW) center parking lot in Silver Spring, and participated in a short devotional before heading out to serve. They started by cleaning up the grounds of the ACSGW building. Then, with gloves on and trash bags in hand, headed down to nearby Sligo Creek where they cleaned up the community. They filled several bags of trash. Victor Martinez, also an elder at Arise, summed up the meaning of Jean Sabbath when he said, "Sabbath is meant to do good deeds, big or small. It's not just to sit in a church for several hours, but to extend a hand to care for Earth and for our fellow mankind."
After much positive feedback, Arise leaders decided to make Jean Sabbath a recurring event, and have already started looking at outreach opportunities that have opened up in the community.
To learn more about future Jean Sabbaths or to submit an outreach opportunity, visit arisesda.com or on Facebook.com/arisesda.