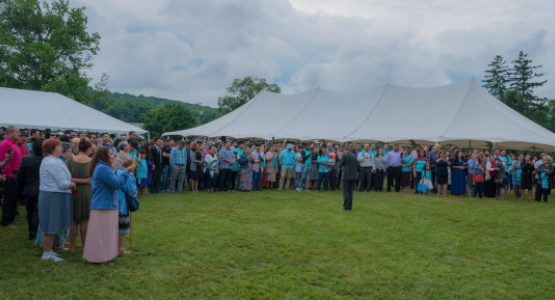 Potomac Conference Celebrates 'Impact 2022'
September 07, 2022 ∙ by rbacchus ∙ in Potomac Conference
Story by Debra Anderson
For the first time in three years, Potomac Conference constituents met for in-person celebrations of camp meetings. Renamed "Impact: Camp Meeting Reimagined," the gatherings were a welcomed experience for those longing to come together in a decades-long tradition of spiritual renewal and fellowship.
The first assembly took place mid-June at Shenandoah Valley Academy in New Market, Va. More than 3,500 of Potomac's Hispanic community members joined with family and friends to experience three days of worship, spirit-filled sermons, uplifting music, inspirational seminars, special programming for children and youth, good food and lots of fun-packed activities.
Organizers chose the event's theme, "We Are Family," because of the essence of who the group is to the larger Potomac Conference community. Rafael Soto, Hispanic Ministries director, says, "Being a family in Jesus motivates us to learn to live connected and grow in Jesus despite our differences. It was a wonderful time to come together to worship, fellowship and reconnect with our brothers and sisters."
Other highlights included concerts with guest singers and international recording artists Lisbeth Melgar and Felipe Garibo. Arnaldo Cruz, Southeastern Conference's (Fla.) communication director; Alexis Romero, El Salvador West Conference president; and Charles A. Tapp, Potomac Conference president, spoke during camp meeting, motivating attendees to be the salt and light of the world by living in His will and moving beyond the walls of the church to reach those in the neighboring communities. Moving "Beyond the Walls" is the focus for pastors and educators as the conference emerges from the ramifications of COVID-19.
Later in June, pastors, teachers, principals and members from the northern part of the conference came together at the Sligo church in Takoma Park, Md., for "Impact 2022." Attendees listened intently as Tapp spoke more about what it means to be salt and light and moving beyond the walls.
Tapp encouraged listeners: "Be salt, be light. Don't remain in the shaker! Come in contact with the people in the world around you. Don't be afraid to take your light into a dark place, because light does its best work in a dark place. It's what we must do to expand the kingdom of God."
Potomac awarded the Beltsville church (Md.) Ammendale campus and the Olney Preparatory School (Md.) with the newly established Salt and Light Award. The awards recognize a local church and school for their leadership in reaching out to the local community and assisting in meeting the needs of those around them.
At the event, Jennifer LaMountain, gospel recording artist, performed a musical concert.
In his message, evangelist Jose Rojas encouraged generations to come together to hasten the coming of the Lord. Rojas said, "When the older members of the body of Christ couple their wisdom and experience with the youth's energy, ingenuity and creativity, it develops into a spiritual weapon that will remove any wall and bring God's people together."