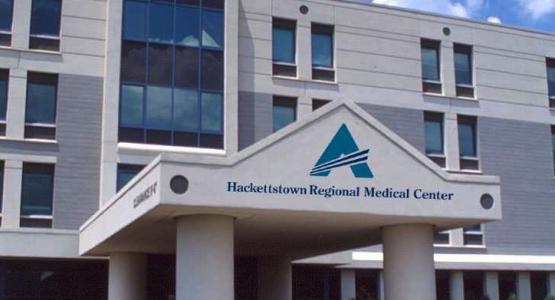 Adventist HealthCare to Divest its New Jersey Hospital
January 29, 2014 ∙ by Anonymous ∙ in Adventist HealthCare, Health & Lifestyle, Health Systems, Uncategorized
Story by Adventist HealthCare Staff
Adventist HealthCare (AHC), which is based in Gaithersburg, Md., today announced plans to transfer their 111-bed, New Jersey-based Hackettstown Regional Medical Center to Atlantic Health System. AHC officials noted that the $54 million transaction is subject to state regulatory review and could take several months.
"This decision was not an easy one for our organization because Hackettstown has been a valued member of Adventist HealthCare," said William G. "Bill" Robertson, AHC's president and CEO.  "However, because of the changing healthcare market in New Jersey, discussions began a few years ago about the best step to continue to ensure a strong future for the hospital and the community it serves. It was decided that by partnering with a health system in its region, Hackettstown would be in a better position to serve its community and receive help with future growth opportunities."
He added that while the hospital provides high-quality healthcare services, operating as a community hospital post-healthcare reform is challenging. Robertson said that Atlantic Health will ensure that Hackettstown continues to provide charity care for the community and maintain its successful chaplaincy program.
AHC is an entity of the Columbia Union Conference with five hospitals, numerous other health facilities and expanding services in the Washington, D.C., region, which it has served for more than 100 years. Hackettstown Regional Medical Center is the only Adventist HealthCare facility in New Jersey.
"Our efforts to ensure a vibrant future for Hackettstown will allow Adventist HealthCare to focus even more intently on its mission to serve communities in the Washington, D.C., area," Robertson said. This focus includes:
The current proposal for relocating Washington Adventist Hospital to White Oak and continued services on its Takoma Park campus
Future plans for the three entities on the Shady Grove campus near Rockville: Shady Grove Adventist Hospital; Adventist Behavioral Health; and Adventist Rehabilitation Hospital of Maryland
Continued physician partnerships and new outpatient facilities throughout the Washington, D.C., region that will help AHC adapt to healthcare reform
Hackettstown Regional Medical Center and Atlantic Health System hospitals have shared a strong history of clinical affiliation and joining Atlantic Health System would provide clear benefits to the community and help, in coming years, to advance healthcare in New Jersey.
"Our patients are familiar with the excellent caliber of care and extensive services offered by Atlantic Health System hospitals," said Jason Coe, president of the Hackettstown Regional Medical Center. "Joining the Atlantic Health System family will give the Hackettstown community access to more specialists and services throughout the system, from cardiovascular to neonatal, to oncology, neuroscience and more."
Atlantic Health System, one of the most recognized not-for-profit health care organizations in New Jersey, also owns and operates Morristown Medical Center, Overlook Medical Center, Newton Medical Center, Chilton Medical Center and Goryeb Children's Hospital. Under Atlantic Health System ownership, Hackettstown Regional Medical Center will remain a nonprofit, acute care general hospital.
"Adding Hackettstown Regional Medical Center to the Atlantic Health System family is a natural fit," said Joseph A. Trunfio, president and CEO of Atlantic Health System. "The hospital has served its community and region for decades, and this affiliation will provide patients in the area with expanded access to high quality, specialized services and programs."