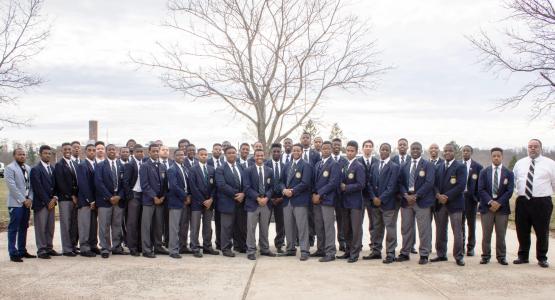 Pine Forge Academy's Young Men Get a Taste of Future Careers
April 29, 2014 ∙ by Anonymous ∙ in Allegheny East Conference, Education, Uncategorized
At a special breakfast, Pine Forge's upperclassmen network over a sumptuous meal with successful professionals in their fields.
Story by Delmas Campbell
Howard H. Brown, a lawyer and CEO of the Howard Brown Law Practice, speaks with Langston Sheppard ('15).
Some 39 Young Men of Distinction who reside in Pine Forge Academy's Handy Hall in Pine Forge, Pa., recently participated in the inaugural "Breakfast With My Profession." The recreational room of Handy Hall was transformed into a formal banquet hall. The tables were adorned with fine linen and accessorized with the finest china and cutlery. A wide assortment of delicacies complemented a full course meal.
The young men—members of the classes of 2014 and 2015—sat with rapt, disciplined and focused attention as Naeem Newman, MD, keynote speaker, shared vital information about the 10 myths about choosing a career and the four steps in choosing a career.  Newman is a surgical oncologist specializing in gastrointestinal cancer. (He is also the proud father of Rhiane Jones, member of the Class of 2014.)
After the meal, experts from a wide range of occupations and careers talked about how the young men can aspire to heights yet unattained. Each young man engaged in meaningful, one-on-one discussions relative to his intended career path with pastors, dentists, lawyers, nurses, doctors, media specialists, social workers and pharmacists. The majority of the presenters were parents of either past and/or present students and all willingly gave of their time, service and expertise.
Some 39 young men participated in the inaugural "Breakfast With My Profession" at Pine Forge.
Jaymie Pottinger, head dean and his team, organized the event to launch young men down the path toward successful careers. Robert Rucker, Class of 2015, shared his scholarly perspective of the event by stating: "It was an amazing opportunity for the young men of Handy Hall ... We realize that many African American students rarely get the opportunity to meet and talk with other African American people who are not only doing what they aspire to be, but are already experiencing success in their chosen careers. This is great for us because it provides us with successful role models."
Students and presenters alike sanctioned the event and the experience with glowing accolades and hailed it as one that must be repeated. In appreciation for writing upon the pages of each young man's future, each presenter received a framed portrait of the group of Young Men of Distinction whose lives they have forever impacted.
Dean Pottinger's foresight has him already planning to make this an annual event and is currently engaging in conversions that will take this program beyond the confines of Pine Forge Academy.
Pine Forge Academy first published this story April 16, 2014.