WAU Celebrates First Graduation; Inaugurates President
May 04, 2010 ∙ by owetmore ∙ in Washington Adventist University, Education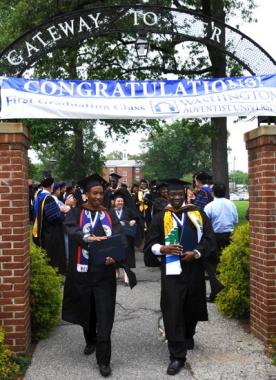 By Celeste Ryan Blyden | Photos by Al Peasley
Last weekend Washington Adventist Universitycelebrated its first graduation as a university by conferring 166 degrees. Weekend speakers included Debbie Brown, a graduate and longtime associate professor of English and the class sponsor, on Friday night; Ella Simmons, a vice president of the General Conference for Sabbath worship; and Dave Weigley, WAU Board chair at Sunday's Commencement. During the program, which was streamed on Sligo church's website, WAU President Weymouth Spence, presented 126 baccalaureate degrees, three associate degrees, and 37 graduate degrees.
Last night the celebration continued with a special concert at the Strathmore Music Center in Bethesda, Md. Hundreds gathered to enjoy WAU's New England Youth Ensemble and Columbia Collegiate Chorale. A portion of the concert featured "A Cycle of Spirituals" with graduate and mezzo soprano Kenniecia Grant. Her tremendous renditions of "Deep River," Joshua fit the Battle of Jericho," and When the Saints go Marching In," among others, drew attendees to their feet. 
Another highlight of the evening was special guest and keynote speaker Leonard Bailey, MD, who is revered worldwide for his heart transplants at Loma Linda Medical Center (Calif.). "I'm a graduate of Washington Adventist University, and I'm proud of it!" he announced to the pleased crowd. WAU President Weymouth Spence presented Dr. Bailey with a certificate and a medallion worn by the graduates in honor of the school's historic new status.
The climax of the evening came when WAU Board chair Dave Weigley officially inaugurated Spence. "We spent six months looking for our 19th president, and you have answered the call," Weigley said, commending Spence for his achievements two years into the job. "You are a person of outcomes; you don't just talk about it, you do it." 
In his inaugural address, Spence vowed to continue moving the university forward. "We are celebrating our university status, our music building groundbreaking, record enrollment, our radio station WGTS, our cultural diversity, and renewed spirituality," he said. "But we will measure ourselves on the success of our graduates."