Columbus' Ephesus Church Turns 100
August 15, 2011 ∙ by cwhittingham ∙ in Allegheny West Conference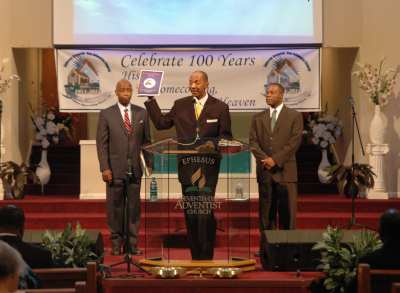 Story by Valerie Lee; Photos by Angela Baker
The Ephesus congregation in Columbus, Ohio, recently celebrated its centennial with a weekend full of festivities. Many former pastors returned to help celebrate, including James Washington, Charles Drake, Henry M. Wright, Stephen T. Lewis, Bufford Griffith and William T. Cox. Other guest speakers with close relationships to Ephesus included Barry C. Black, chaplain for the United States Senate, and James L. Lewis, former Allegheny West Conference president. In addition to spirited preaching related to the celebration's theme, "History, Homecoming & Heaven," choirs and musical groups spanning the last 40 years of the church's history returned to enrich the worship services. Another high point of the weekend was taking time to honor those families whose ancestors were charter or founding members.
The centennial celebration was made sweeter by the announcement that past and current members had fulfilled their commitment to current pastor, Donald L. Burden, DMin, to reduce the mortgage on the church's school from $600,000 to $120,000 during the two-year period leading up to celebration. The saints accomplished this through sacrificial giving and a range of fundraising projects. Read more about the celebration at ephesus-sda.org.
Photo: Donald Burden (center), Ephesus pastor, leads the anniversary celebration on Sabbath morning.